Makar Sankranti is the first solar festival which takes place after winter solstice signifying the return of longer days. Therefore, the festival symbolically marks when the sun ends its zodiacal southward journey (Sanskrit: Dakshinayana) at the Tropic of Capricorn (Makar), and starts moving northward (Uttarayaan) towards the Tropic of Cancer. Makar Sankranti is also known as Pongal (Tamil Nadu), Uttarayan (Gujarat), Maghi (Haryana, Himachal Pradesh and Punjab), Bhogali Bihu (Assam), Shishur Saenkraat (Kashmir Valley), Khichdi (Uttar Pradesh and western Bihar) People wear new clothes, pray to God, and make offerings of traditional food to deceased ancestors. They also make beautiful and ornate drawings and patterns on the ground with chalk or flour, called "muggu" or "Rangoli" in Telugu, in front of their homes. These drawings are decorated with flowers, colours and small, hand-pressed piles of cow dung, called "gobbemma"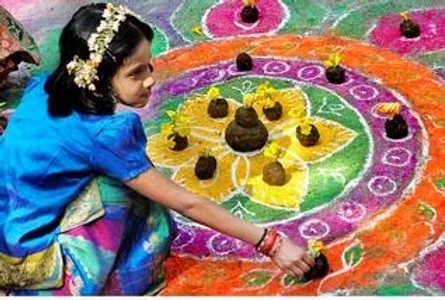 This festival signifies the harvest season and main crops like sugarcane, rice & wheat are used in festivities.People offer prayers to the elements by lighting bon fire and offering the produce. It is celebrated with lot of fun in Punjab as Lohri. Desi Cows are honored and celebrated because they give manure and traction power for ploughing, which makes agriculture possible.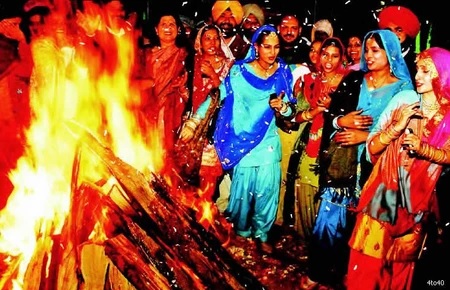 Kanuma is very intimate to the hearts of farmers because it is the day for praying and showcasing their cattle with honor. Cattle are the symbolic indication of prosperity. Nowadays Kanuma is not celebrated as widely as it used to be, but it still remains an integral part of the Sankranti culture. Meant for thanksgiving to cattle, the day after Makara Sankranti, the animal kingdom, in particular the desi cows, are remembered.
An important ritual is display of cows and bulls in colourful costumes in an open field. Cows are decorated for the occasion and taken on a procession. They are also made to cross a fire. This ritual is common in rural Karnataka and is called "Kichchu Haayisuvudu." A notable feature of the festival in Andhra Pradesh is the Haridasu who goes early in the morning around with a colourfully dressed cow, singing songs of Lord Vishnu (Hari) hence the name Haridasu (servant of Hari). On occasion of Maattu Pongal (மாட்டுப் பொங்கல்) – offering thanks to cattle is the main theme, as they help farmers in agriculture. On this day the cattle are decorated with paint, flowers and bells. They are allowed to roam free and fed sweet rice and sugar cane. Some people decorate the horns with gold or other metallic covers. In some places, Jallikattu, or taming the wild bull contest, is the main event of this day and this is mostly seen in the villages. Unfortunately because of ban on Jallikattu many precious breeds of cattle are going for slaughter.
As society is moving away from Desi Cows – agriculture has become chemically laden and milk has become adulterated and A1 type. On this first solar festival of 2017, resolve to connect to the roots and use desi cow products in daily life. That is the only way to serve, save and sustain the Desi Cows and save ourselves. You can now buy desi cow products online from www.a2naturals.in – On the occasion on Makar Sankranti – a discount of 10% is available all of January. Use "10OFF" code at checkout.