The very first scene which amazes Amrendra Babubali, as he steps out of the palace to be with the masses, is set in the serene paddy fields perturbed by Indigenous bullocks plowing the fields. It is a sight to behold as the hard working farmers lay the foundation of agriculture. India is an agrarian country, but agriculture is sustainable only with the desi cows. The cultural identity of our nation, is set in villages where desi cows are still revered for their contribution towards our food security.
Role of Desi Breeds in wars, until the beginning of the 20th century, cannot be undermined. Skilled Bahubali knew how to use the tremendous force of bulls to his advantage in time of adversity. Many historical paintings show the use of bulls, to pull and deploy Mughal artillery including one depiction of bullocks dragging siege-guns up hill during Akbar's attack on Ranthambhor Fort.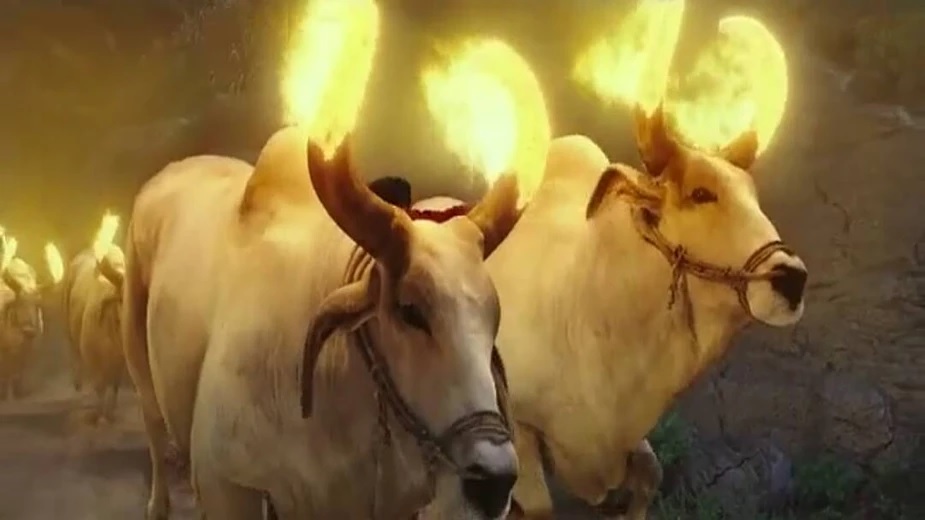 The Jallikattu bull is a show of heroism of the men who fight them but also a great way of pedigree selection. Like in Jallikattu, it is the Bahubali who suffers injuries, almost never the bull. Feel sorry for Bahubali but at the same time it was wise of Devasena to chose this way to bring out his valor and truth.
Butter churning before dawn was a household chore. In this famous scene before Devasena's kingdom is attacked, Amarendra Babubali is seen churning the curd to get butter. Wooden churner is turned clock-wise and anti-clock wise in a earthen pot. Such butter increases ojas element as per Ayurveda. The timing and method of making is of vital importance in making ghee.
The last scene of the movie when Mahendra Bahubali is badly wounded, he finds his strength in Lord Shiva as he smears the ash on himself. From an Ayurvedic perspective as well, ash being the most inert media, not only helps in clotting the blood but also prevents bacterial infection.
All in all, the blockbuster is deeply intertwined with desi cows naturally because at the end of the day, you cannot portray a culture without its backbone. Congratulations to the Bahubali team for the tremendous effort and well deserved success. #JaiMahismati